I , personally, don't think of Purvis Young as an " Outsider Artist " . In fact I consider the term somewhat offensive. To me, it's simply one more " ghetto " in which the art establishment likes to " pigeon hole " artists who don't conveniently fall into their accepted genres.
The term "Outsider artist " encompasses, in addition to self-taught artists like Grandma Moses and Purvis Young, the mentally ill, the visionaries and the closet pedophiles.
Yes, Purvis Young is self-taught. But he's self-taught by a genius. Despite his lack of a formal education, Purvis is quite familiar with the history of art from extended forays at the public library.
Ask him about the English painter, Turner, and Purvis will grin: " I likes Turner, " he'll tell you. " He's a cool dude…"
Still there is no denying that Purvis has a wide and loyal following among collectors of " outsider art ".
Which is why Young was, as usual, well represented at this year's Outsider Art Fair, which closed in New York last Sunday. There were at least four booths showing Purvises. I arrived late to the show so I may have missed some.
One exhibitor had several rare pieces from the early 1970's. This period, usually referred to as Good bread Alley, is when Purvis Young first achieved a certain notoriety by covering an entire block long warehouse wall in Overtown, Miami with his distinctively colorful expressionistic paintings.
It didn't hurt that the warehouse was visible from nearby interstate I 95. Made curious by this unusual display, people took the nearest exit ramp to have a closer look. Many liked what they saw and bought paintings for as much as $25. Each. Purvis didn't mind. To him it was like trading in counterfeit money. He couldn't quite believe that somany people were willing to pay him for what he most loved to do.
Recently a stunning large painting from this period, a black " Christ " figure, his arms outspread, both hands intentionally cut off by the picture frame changed hands for " six figures ".
The two same sized '70's paintings in this show were priced at $25,000 each.
Another booth had a wonderful piece from the early nineteen eighties, an Angel headed surrounded by wild horse, two of Purvis Young's most enduring motifs. The same dealer had two Purvis "sketch books. The larger of the two was priced at $15,000.
The show bears out what I have long believed-that Purvis Young is a major artist who is still largely underappreciated and underpriced.
I find this to be especially true of the best quality work, which sells for prices similar to those of a young emerging artist with a freshly minted MFA from Columbia. The difference being that Purvis Young has been painting consistently for forty years, and has his work in innumerable private collections and hanging in over sixty museums!
Just imagine what his work would sell for if Purvis Young were white, educated and articulate! And, while twittering he had his face on Facebook !
"The work of 20th-century self-taught artists is often assumed to be solely representational in subject matter with an emphasis on storytelling and memory. Other assumptions are that the artists work in isolation, that they live in rural areas, and they are not connected to community or culture. As the field of self-taught artists and their work matures and expands, however, scholarship is beginning to dispute these stereotypes. Approaching Abstraction on view from October 6, 2009 through September 6, 2010, is the first exhibition to look at the concept of abstraction in this field, exploring the non-representational in the work of 40 contemporary self-taught artists…"
http://detourart.wordpress.com/2009/11/04/new-self-taught-artist-show-opening-at-the-american-folk-art-museum-this-friday/
"Purvis used the debris of Overtown, old cribs and pieces of wood, to create a body of work that tells a specific story, a somber story, that is nonetheless part of the American experience. What is more disturbing to me is the thought that without artists like Purvis Young, this story would not be heard.
An American Art and Craft Collective will be on display until January 15, 2010 and is a marriage about what is best about American culture at a time when America needs it most."
http://grownandsewn.com/events.html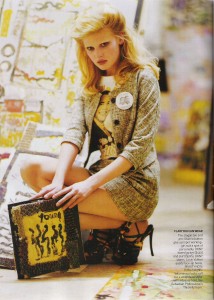 "A fashion spread being shot in Miami isn't exactly big news, but there's a pictorial in the latest American Vogue (with Cameron Diaz on the cover) that made us do a double take.
For one, it stars actor Morgan Freeman –not exactly a fashion mag regular– and Dutch model Lara Stone, a gap toothed vixen normally found in edgier fare. An unexpected duo. And no, the camera wasn't clicking anywhere near South Beach. We can't be sure, but it looks more Overtown to us (anyone know where the Peace & Love market is?).
But, perhaps most notable to the local arts crowd is the folk art master Purvis Young has a piece prominently featured. Stone, decked out in a DKNY suit adorned by an Obama shirt and button, holds up a small work by the artist in the only picture not featuring Freeman.
The spread was shot by famed photog Bruce Weber, who makes his home somewhere in the area. To see more pick up the issue or click here."
– From the Miami New Times (article URL)
By Catherine Fox The Atlanta Journal-Constitution Published on: 08/14/08 Purvis Young, one of the distinguished elders of self-taught art, will soon be a Morehouse man. The Miami-based Rubell Family Collection has given the college 109 of Young's paintings. Worth an estimated $1 million, the gift will be hung in its entirety on the second floor of the Martin Luther King Jr. International Chapel. It is the largest single gift of art Morehouse has received, and its display will be, it is said, the largest permanent installation of Young's work in the world. Young, who found his calling in the 1960s after a stint in prison, has worked in a whirlwind of creativity ever since. Using a distinctive language of squiggly silhouettes and dense colorful compositions, he tells stories of struggle and joy seen through the prism of Overtown, his poverty-wracked community in downtown Miami. Seen as the community's champion, the artist, who started out by affixing paintings to its abandoned buildings, was commissioned in 1986 to design a mural for a transit station in Overtown. Morehouse president Robert Michael Franklin is enthusiastic about the gift. "Morehouse's mission is to train leaders with a social conscience," he says. "Art is a way to convey those values. … Purvis Young has used his art as social commentary and a catalyst for justice." Don and Mera Rubell, best known as voracious and astute collectors of international cutting-edge contemporary art, also champion important Miami artists. The Rubell Family Collection acquired the contents of Young's studio in 2000, when his eviction threatened to leave his work on the street. The family's goal to preserve and disseminate his legacy is a gargantuan effort. Given the artist's prodigious output, it took eight months just to empty out the studio. Thus far, the staff has catalogued and conserved 3,000 paintings. Drawings are next. The Rubell Collection has begun distributing the paintings to interested institutions. The Morehouse gift is among its largest thus far, and one of the first to be made outside of Florida. Sheldon Anderson, president of Northern Trust Bank of Florida for Miami-Dade County, brought the two parties together. The company, a financial services provider, will underwrite the costs of transportation and the installation of the work. The display will be completed by the end of August, but the building is not open to the public. Plans are under way for providing access to the exhibit. Though most recipients of Young's paintings have been museums, Rubell Family Collection director Mark Coetzee was quite taken with the idea of presenting Young's work amid the portraits of notable African-Americans that fill the building. "I think it's a wonderful context for Purvis to be with his peers," Coetzee says. "He's 65 now, and I thought it would be meaningful for him. In the end, the artist is my first responsibility."