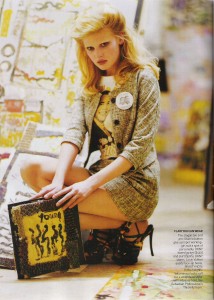 "A fashion spread being shot in Miami isn't exactly big news, but there's a pictorial in the latest American Vogue (with Cameron Diaz on the cover) that made us do a double take.
For one, it stars actor Morgan Freeman –not exactly a fashion mag regular– and Dutch model Lara Stone, a gap toothed vixen normally found in edgier fare. An unexpected duo. And no, the camera wasn't clicking anywhere near South Beach. We can't be sure, but it looks more Overtown to us (anyone know where the Peace & Love market is?).
But, perhaps most notable to the local arts crowd is the folk art master Purvis Young has a piece prominently featured. Stone, decked out in a DKNY suit adorned by an Obama shirt and button, holds up a small work by the artist in the only picture not featuring Freeman.
The spread was shot by famed photog Bruce Weber, who makes his home somewhere in the area. To see more pick up the issue or click here."
– From the Miami New Times (article URL)